Day 2 :
Keynote Forum
University of Debrecen, Hungary
Time : 10:00-10:30

Biography:
András Guttman, MTA-PE Lendulet professor of Translational Glycomics, directs the Horváth Csaba Laboratory of Bioseparation Sciences in Hungary and leads the application efforts in Sciex in California. His work is focused on capillary electrophoresis and CESI-MS based glycomics and glycoproteomics analysis of biomedical, cell biology and biopharmaceutical, interests. Professor Guttman has close to 300 scientific publications, wrote 35 book chapters, edited 4 textbooks and holds 23 patents. He is on the board of several international organizations, on the editorial boards of a dozen scientific journals, has been recognized by numerous awards and member of the Hungarian Academy of Sciences.
Abstract:
Full characterization of the N-glycosylation moieties of biopharmaceuticals is of high importance, especially when glycovariants may impact the biological effect. Well over half of the new generation protein therapeutics are monoclonal antibodies, in which the attached oligosaccharides not only affect their physicochemical properties and stability, but also their receptor binding activity, circulating half-life and last but not least, their immunogenicity. Therefore, high performance glycoanalytical techniques are of great demand for N-glycosylation analysis of therapeutic antibodies, especially during clone selection, process development and lot release. Analysis of complex carbohydrates is a very challenging task due to the lack of their chromophore / fluorophore activity and, in many instances, easily ionizable groups, necessitating derivatization before electric field mediated analysis. Full N-glycosylation characterization may also require sequencing with consecutive exoglycosidase digestion steps, followed by capillary electrophoresis analysis. In this presentation the state of the art of liquid phase separation methods will be conferred for comprehensive structural elucidation of protein N-glycosylation, mostly using capillary electrophoresis and its combination with mass spectrometry (CESI-MS). Assisted by the emerging field of glycoinformatics, assignment of the identity of the separated glycan structures will be demonstrated by using the recently introduced GUcal software.
Image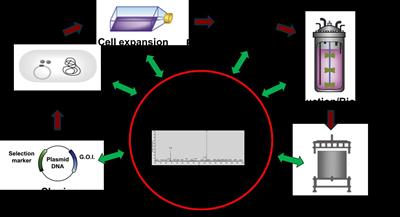 Figure 1. Glycoanalytical needs during the manufacturing process of recombinant therapeutic proteins
Keynote Forum
Glycotope GmbH, Germany
Time : 10:30-11:00

Biography:
Sven Bahrke is a leading scientist at Glycotope GmbH since 2007. As specialist in glycobiology he was responsible for the establishment of the glyco-analytic department at where he implemented all necessary technologies for high standard glycan profiling as well as for MS based protein analysis.
Before the appointment at Glycotope he studied Chemistry at the University of Potsdam and gained experience in the fields of glycobiology and instrumental analytics during his PhD and Postdoctoral fellowship in the departments of Chemistry and Biochemistry as well as the Interdisciplinary Center for Mass Spectrometry / Berlin.
Abstract:
Optimal functionality and limitation of side effects of recombinant therapeutic proteins require a glycosylation profile that mimics the complexity of the natural human glycosylation as much as possible. As a result, the need for characterization of complex glycosylation patterns in R&D and regulatory environments is evident. The coupling of high resolution chromatography and mass spectrometry is the method of choice for analysis of both simple and complex glycan patterns. However, LC-MS/MS data of glycans are highly complex. Thus, manual data processing and evaluation are time consuming as well as error-prone. We developed an automated method to cope with intense glycoanalysis requirements in biopharmaceutical characterization.
We applied MS-sensitive fluorescence labeling of liberated glycans from biopharmaceuticals and high resolution chromatography with fluorescence detection in line coupled to tandem mass spectrometry (HILIC-UPLC-FLD-ESI-QTOF MS/MS). This approach facilitates the unambiguous identification and reasonable quantification of biologically important N-glycan parameters like antennarity, sialic acid, bisecting N-acetylglucosamine, core or outer-arm fucose and glycan sulfation optionally in GxP quality. We developed software that automatically provides such parameters and minimizes user intervention.
Automated Bruker QTOF (Compact / Impact II) data evaluation using script based software allowed an evolution of the automated analysis, which facilitated the hybridization of fluorescence and MS data and empirical MS/MS spectra library matching for automatic structure identification and fluorescence based quantification of glycan structures.
The feasibility of the method was successfully proven for biopharmaceuticals resulting from Glycotope's human cell lines for production of recombinant proteins with complex glycosylation with improvements in sialylation, galactosylation, fucosylation, antennarity which results in higher bioactivity, stability, serum half-life time and reduced immunogenicity. Even for glycoproteins comprising over 60 individual glycan structures, the complete identification and quantification starting from approximately 10µg of glycoprotein is available within one day in an automated workflow.
Image
Figure 1. Workflow for the automated processing of LC-MS/MS data for quantitative analysis of the human-like N-glycosylation of glycoproteins produced by the GlycoExpress™ cell platform
Track 5: Glycobiology
Track 6: Glyco Biomarkers
Track 7: Mass Spectrometry in Proteome Research
Track 8: Glycobiology in Personalized Medicine
Location: Holiday Inn London - Brentford Lock
Chair
Andras Guttman
University of Debrecen, Hungary

Co-Chair
Pierre van der Bruggen
Universite catholique de Louvain, Belgium
Session Introduction
Université catholique de Louvain, Belgium

Biography:
Pierre van der Bruggen has a Ph.D. in Agronomical Sciences. In 1988, he joined the Ludwig Institute for Cancer Research and identified in 1991 the first human gene, MAGE-1, coding for a tumor antigen recognized by cytolytic T lymphocytes. He identified over the years several other tumor antigens, which have been used in clinical trials. His group has discovered a new type of anergy of human tumor-infiltrating lymphocytes, due to the presence of galectin-3, a lectin abundant in tumors. The group is further analyzing the mechanisms by which galectin antagonists reverse the impaired T cell functions.
Abstract:
We describe a new mechanism of dysfunction of human tumor-infiltrating lymphocytes (TILs). TILs failed to secrete cytokines and lytic enzymes upon stimulation, although they were normally activated and able to produce these effector molecules inside the cell. Surprisingly, these effector molecules remained trapped inside the cell. This defect is related to the presence of galectin-3 at the TIL surface and can be relieved by agents that detach galectin-3 from the TIL surface. The normal secretion process is blocked in dysfunctional TILs, due to impaired LFA-1 mobility and actin rearrangement at the secretory synapse. This is the first observation of uncoupling between cytokine production and cytokine secretion in TILs.
We also hypothesise that galectins lattices hanged on the tumor microenvironment may capture glycosylated immune factors, blocking their anti-tumor function. The presence of galectin-3 in the tumor microenvironment reduced IFNγ diffusion and ability to induce the chemokine gradient necessary to attract anti-tumor T lymphocytes. Galectin-3 captured in vitro glycosylated IFNγ, and reduces IFNγ diffusion through a collagen matrix. Inhibiting galectins enhanced the capacity of human tumor cells to express CXCL9/10 upon IFNγ treatment in vitro. In a humanized mouse model, human galectin-3 restricts the intratumor diffusion of IFNγ. Co-injection of IFNγ and galectin antagonists improved tumor infiltration by autologous CD8+ T cells injected intravenously and delayed tumor growth, as compared with tumors injected with IFNγ alone . Our results contribute to explain why some human tumors can be considered as 'cold' as they are poorly infiltrated by anti-tumor T lymphocytes.
Medical University of Wrocław, Poland

Biography:
Mirosława Ferens-Sieczkowska is an Associate Professor In the Department of Chemistry and Immunochemistry, Medical University of Wrocław, Poland. She graduated with honors from the Science Division, University of Wrocław, and received her PhD in Biochemistry from the same University. During her work in the Institute of Biochemistry and Molecular Biology, University of Wrocław, she focused her interest on plant biochemistry, especially the structure and function of plant lectins. Currently she is appointed in Medical University of Wrocław and her interests turned into the field of glycobiology, protein-carbohydrate interactions and the impact of altered and impaired glycosylation on disease etiology.
Abstract:
Conception problems affect about 15% of couples in developed countries. A male factor is considered crucial or co-existing in at least half of these cases, but evaluation of the reasons of male decreased reproductive potential is fairly not sufficient. Andrologists claim urgently for reliable diagnostic and prognostic biomarkers, as well as molecular targets for potential treatments. Considering the importance of carbohydrate-protein interactions in different aspects of fertilization, also male infertility becomes a field of interest for glycobiology. Interestingly, both sperm and seminal plasma glycomes of fertile men contain substantial amounts of immunomodulatory glycoepitopes, usually rare in normal body fluids. These motifs include LeX, bisecting GlcNAc, and high-mannose type glycans. It has been hypothesized that this unusual glycosylation profile is engaged in receiving maternal immune privilege during fertilization and pregnancy. If this hypothesis is true, at least some cases of infertility may be related to incorrect glycosylation patterns within male reproductive tract. Our research is thus focused on the comparison of seminal plasma glycomes of fertile and infertile male subjects. Although we have found significant alterations in fucosylation, sialylation and high-mannose glycan content, these results are still far from diagnostically valuable conclusions. The main challenge is the complexity of seminal plasma, consisting of secretions of testes, epididymis and different accessory glands. Some experimental data suggest that their glycosylation pathways are not necessarily identical. Regarding also extreme inter-individual variability, it seems that successful search for infertility glyco-biomarkers requires careful selection of candidate glycoproteins, representing particular parts of male reproductive tract.

Biography:
Patricia Albanese is Professor in Cell Biology and Biochemistry in UPEC. She studies GAG effects on stem cells properties and biomaterials association for Tissular Engineering application in regenerative medicine. She had obtained numerous grants from french government and patient foundations, as well as institutional and industrial supports, as main coordinator of projects to develop associated matrix and cellular therapeutic products. She has 25 Publications in international journals, 1 patent, and experiences in management of researchers and students (MD, engineers, Post-Doc, Ph-D, Master). She collaborates with chemists and polymerists on GAG tools development (Pr. D. Papy-Garcia, Head of CRRET lab) and has strong collaborations with rheumatologist clinicians and academic teams that master pre-clinical murine models of degenerative pathologies (AP-HP Hospital and Inserm). CRRET lab is a 35 people unit that has all the facilities for characterization of polysaccharides on glycomic plateform, molecular interaction analysis, cell culture, flow cytometry, histology, animal models.
Abstract:
Sulfated glycosaminoglycans (GAGs) such as heparan sulfate (HS) and chondroitin sulfate (CS) are very important macromolecules involved in homeostasis regulation of cell niches in numerous tissues. They are associated to core protein and constitute the superfamily of heparan sulfate proteoglycans (HSPGs) and CSPGs present on the cell surface and in the Extracellular Matrix (ECM). They are known to play fundamental roles on self-renew, clonogenicity, proliferation, differentiation, migration and survey of numerous cell types. Such functionality is linked to their ability to interact with heparin binding proteins (HBPs), including growth factors, cytokines, and chemokines. Interactions of sulfated GAGs with HBPs ensure the link to their high affinity receptors and then participate to crucial cell signaling pathways. The specificity of these interactions is linked to precise sulfation pattern of the disaccharides that constitute GAGs. According to the tools of our glycomic plateforms we are able to purify and characterize GAGs species, as well as their chemical signature and functionality on HBP and cells. Since many years, our team demonstrated that GAGs structural modifications are involved in regulation of physiological processes during aging and in regulation of pathological ones, such as vascular remodeling and inflammation, during degenerative diseases. The characterization of these glycanic targets permit also to propose innovative therapeutic strategies based on the use of matricial products to optimize current limiting steps of therapeutic uses of stem cells: mobilization for purification, clonogenicity for amplification and survey for engraftment in basically deleterious degenerative context. We propose to illustrate such strategies by examples of our results in brain, vascular and osteo-articular systems.
Instituto de la Grasa, Spain

Biography:
Raquel Gómez-Coca studied Pharmacy at the University of Seville (Spain). She did the experimental part of her PhD work at the University of Basel (Switzerland), thanks to which she obtained her European Doctor Degree. After several years in the private sector, in 2009 she started working as a Postdoctoral Researcher at the Spanish National Research Council. Presently she is part of the Department of Characterization and Quality of Lipids of the Instituto de la Grasa, where she is devoted to the development of analytical methods focused on olive oil quality, purity and fraud detection.
Abstract:
Plant sterols have been used as cholesterol-lowering agents in humans for a very long time. Within this group of compounds, steryl glycosides (SG) – considered as non-nutrients plant-secondary metabolites- are separately categorised as glycolipids thanks to both the sugar molecule(s) bound to the 3-C atom of the sterol backbone and to their favourable effect in human health.
Different sources of SG have been identified, being olive oil (OO) the most recent one. To this respect some considerations should be taking into account. First of all, from the analytical point of view one must realise that the European Commission official method for sterol analysis in OO overlooks the presence of SG, causing underestimations when reporting on total phytosterol concentration. Furthermore, it is important to provide data also on the SG profile, since it has been pointed out that different species may have dissimilar biological effects. Under this perspective the development of a proper analytical approach prevailed and new procedures to determine these sterol derivatives in OO are been developed. Secondly, OO production and consumption is no longer restricted to the Mediterranean basin, which have resulted on an increasing competitiveness, lack of a centralised databank for validated methods of analysis, absence of harmonization, etc., driving to a significant weakness in the OO production and supply chain, which is nowadays being exploited by counterfeiters.
Our purpose here is to present the information available on the field of SG, giving an overview of what these molecules are and of what has been done in different fields of research. Furthermore, we will comment on one of our specific objectives in the European OLEUM project: the search for novel markers focused on the development and validation of innovative analytical solutions to solve part of the OO fraud problems presently under the microscope of the international community.
Ben Gurion University, Israel

Biography:
Isam Khalaila has completed his PhD on 2001 from Ben-Gurion University (BGU) and postdoctoral studies from Muenster University (Germany) and EPFL (Switzerland) on 2003 and 2005 respectively. On 2005 he established his Glycoproteomics lab in the department of Biotechnology engineering in BGU. He has published more than 50 papers in reputed journals and has been teaching grade and undergraduate students in the last 12 years.
Abstract:
The Wnt/β-catenin signaling pathway and cadherin-mediated adhesion are implicated in epithelial-mesenchymal transition (EMT), a key cellular process in invasion and metastasis. O-GlcNAcylation, the addition of β-N-acetylglucosamine (O-GlcNAc) moiety to Ser/Thr residues is involved in cancer and tumorigenicity. The current study is aiming to investigate the effect of O-GlcNAcylation on β-catenin and E-cadherin expression and function and thus, on EMT, cell motility and cancer cell tumorigenicity. The enzyme machinery of O-GlcNAcylation was modulated either with chemical inhibitors or by gene silencing. When O-GlcNAcase (OGA), the enzyme responsible for the removal of O-GlcNAc, inhibited or silences, a global elevation of protein O-GlcNAcylation and increase in the expression of E-cadherin and b-catenin were noted. Concomitantly with enhanced O-GlcNAcylation, b-catenin import into the nucleus and its transcriptional activity were elevated. Additionally, fibroblast cell motility was enhanced. Consistent with the results obtained by OGA inhibition, OGT-silencing led to a significant reduction in b-catenin level. Murine orthotropic colorectal cancer model indicates that elevated O-GlcNAcylation leads to increased mortality rate. However, reduction in O-GlcNAcylation promoted survival and attenuation of metastases development. The results described herein provide circumstantial clues that O-GlcNAcylation deregulates β-catenin and E-cadherin expression and activity in fibroblast cell lines and this might impact EMT and cell motility, which may further influence tumorigenicity and metastasis.
University of Münster, Germany

Biography:
Nadine Legros has studied Molecular Biotechnology at the University of Bielefeld in Germany. She is currently working on her PhD thesis in the group of Prof. Dr. Johannes Müthing, Institute for Hygiene (Münster, Germany), headed by Prof. Dr. Dr. h.c. Helge Karch. Her project is part of the research consortium InfectControl 2020 (TFP, TV8, AS12) with the aim to develop new strategies for the early recognition, control and prevention of infectious diseases.
Abstract:
Human brain and kidney endothelial cells are important targets for Shiga toxins (Stxs) produced by enterohemorrhagic Escherichia coli (EHEC) and play key roles in the pathogenesis of life-threatening extraintestinal complications. The clinically important Stx1a and Stx2a subtypes bind to glycosphingolipids (GSLs) of the globo-series. Primary endothelial cells are fastidious and sensible cells, which are eminently suitable as an optimal native cell type for analyzing Stx-mediated cellular injury. Lipid rafts represent supramolecular membrane microdomains that are enriched in certain types of lipids such as cholesterol, sphingomyelin and GSLs. Detergent-resistant membranes (DRMs), commonly used as lipid raft-analogous structures, represent the ruling method to assign association with lipid rafts.
Here we present novel data on the composition of lipid rafts prepared from primary human brain microvascular endothelial cells (pHBMECs) and primary human renal glomerular endothelial cells (pHRGECs). Most prominent receptor lipoforms of Stx-receptor GSLs of both types of endothelial cells were globotriaosylceramide (Galα4Galβ4Glcβ1Cer, Gb3Cer) and globotetraosylceramide (GalNAcβ3Galα4Galβ4Glcβ1Cer, Gb4Cer) with Cer (d18:1, C16:0), Cer (d18:1, C22:0) and Cer (d18:1, C24:1/C24:0), determined by electrospray ionization mass spectrometry in combination with thin-layer chromatography (TLC) immunochemical detection. Gb3Cer and Gb4Cer were found to co-distribute with canonical lipid raft-markers cholesterol and sphingomyelin as well as flotillin-2 in DRMs, which represent the liquid-ordered membrane phase and indicate their association with lipid rafts. Figure 1 exemplarily shows the DRM and nonDRM distribution of Gb3Cer and Gb4Cer detected in sucrose density gradient fractions of pHBMECs using Stx1a- and Stx2a-TLC overlay assays. On the other hand, lyso-phosphatidylcholine was identified as a nonDRM marker phospholipid of the liquid-disordered membrane phase. Increasing knowledge on membranes of brain and kidney endothelial cells might help to develop new therapeutic strategies to fight EHEC infections.
Image
Fig. 1. Detection of Stx-binding GSLs in sucrose density gradient fractions of pHBMECs. (A) TLC overlay assay detection of Stx1a- and (B) Stx2a-binding GSLs using Stx1- and Stx2-specific antibody, respectively. GSL extracts correspond to 8 × 105 cells and 2 µg of reference neutral GSLs from human erythrocytes (R1) were applied in each assay (Legros et al. 2017a).

Biography:
Nuno M. Xavier received a dual PhD degree in organic chemistry from the University of Lisbon and from the National Institute of Applied Sciences of Lyon in 2011 (advisors: Prof. Amélia P. Rauter and Dr. Yves Queneau, respectively). He was afterwards a postdoctoral research fellow at the University of Natural Resources and Life Sciences of Vienna in the group of Prof. Paul Kosma. He then returned to the University of Lisbon as postdoctoral member until the end of 2013, whereupon he was awarded an Investigator Starting Grant from the Portuguese Foundation for Science and Technology (FCT). Since then, he is Researcher (FCT Investigator) at the Faculty of Sciences, University of Lisbon. His research activities, reported in 25 publications, are focused on the synthesis of new carbohydrate-based molecules of therapeutic interest, for which he has been internationally recognized with various Young Scientist Awards. He is a member of the IUPAC Carbohydrate Nomenclature Task Group.
Abstract:
Nucleoside and nucleotide analogs or mimetics have attracted considerable attention as synthetic targets due to their ability to interfere with biological pathways in which their natural counterparts are involved, such as nucleic acid synthesis and cell division. Such physiological processes are deregulated in diseases such as cancer or viral infections and therefore these classes of compounds constitute potential anticancer or antiviral agents. Other biological effects that have been reported for nucleoside analogs include antimicrobial efficacies and cholinesterase inhibitory abilities. The access to structurally new analogs or mimetics of nucleosides and nucleotides and the exploitation of their biological profile remains of interest.
In this communication, the synthesis of glucuronic acid and glucuronamide-derived N-glycosyl compounds, including derivatives containing potential bioisostere groups for a phosphate functionality and nucleosides, will be presented.
Molecules of higher structural complexity intended to mimic nucleotides were also prepared, namely glucuronamide-based hybrids containing both a benzyltriazole moiety and an anomeric sulfonamide or a phosphoramidate function and pyranosyl/furanosyl nucleoside phosphoramidates.
The new compounds were subsequently evaluated for their cytotoxicity to cancer cells and for their inhibitory activities towards enzymes of therapeutic relevance, such as cyclin-dependent kinases, cholinesterases and carbonic anhydrase II. Some molecules were shown to be bioactive with inhibition constants or IC50 values in the micromolar concentration range. The synthetic work and the findings of the bioactivity evaluation will be disclosed.
Dublin City University, Ireland

Biography:
Jonathan Cawley is currently a fourth year PhD student in the School of Biotechnology at Dublin City University. He received his B.Sc. in Biotechnology (1st class honours) from DCU in 2013. His research focuses on the glycosylation changes to the CHO cell surface by probing cells with recombinant lectins, which he has expressed and purified, and commercial lectins. Subsequently the cells are analysed with a fluorescent microscope and flow cytometer.
Abstract:
Chinese hamster ovary (CHO) cells are extensively used for the production of biopharmaceutical products. In 1985 the first recombinant proteins (i.e., monoclonal antibodies, blood factors, growth hormones and cytokines etc.) are produced in CHO cells. Proteins produced in CHO frequently undergo post-translational modifications (PTM). The most common PTM is glycosylation which can alter the function, stability, immunogenicity and efficacy of the resulting protein. Changes to the CHO glycocalyx, carbohydrate coat surrounding the cell membrane, may be informative to changes on the product being produced. It is therefore of great interest to understand how the host cell changes in different culture conditions. Fluorescent microscopy and flow cytometry are employed to perform glycoanalysis on CHO DP-12 cells. Recombinant eukaryotic lectins, purified using immobilized metal affinity chromatography (IMAC), and commercial plant and fungal lectins are used to probe CHO cells in order to establish a lectin binding profile.
Lectins from non-plant sources are perfect glycan probes as they are generally nontoxic but they are also superior to other binding proteins such as antibodies whose specificities for carbohydrate targets are ill-defined. In this work a recombinant eukaryotic lectin, Agrocybe aegerita lectin 2 (AAL-2), was expressed, purified and characterised. It was then successfully used to probe the CHO DP-12 surface, along with other lectins, demonstrating that a novel lectin produced recombinantly is the optimal choice of probe for investigating the cell surface glycosylation of live cells.
Image
Figure 1: Fluorescent microscope images of CHO DP-12 cells probed with AAL-2. CHO DP- 12 cells were probed with the GlcNAc binding Agrocybe aegerita lectin 2 (AAL-2) for 30 min and viewed with a fluorescent microscope at 400x magnification.
A) Nuclear(Hoechst) stain. B) AAL-2:FITC stain. C) Merged image of A) and B). D) AAL-2:FITC stain + 200 mM GlcNAc - viewed in FITC filter.