Day 1 :
Keynote Forum
Morehouse School of Medicine, USA
Time : 09:10-09:40

Biography:
Dr. Menter received his PhD degree in Chemistry from the George Washington University in 1969. He completed a postdoctoral fellowship with Prof. Dr. Theodor Foerster at the Institut fuer physikalische Chemie der Universtiaet Stuttgart, Germany. Subsequently, he was at the University of Alabama, Birmingham, and the VA Medical Center (Atlanta) He currently serves as Research Professor of Biochemistry at Morehouse School of Medicine. Dr. Menter is recognized internationally for his work in the areas of collagen photochemistry and melanin photobiology as pertaining to redox reactivity
Abstract:
As dermal collagen fluorescence spectra are time – and environment – sensitive, they show promise as biomarkers and prognosticators of damage due to aging and other pathology in general. The rate of photochemical formation of dityrosine form internal tyrosine residues is quasi – linear, and its slope can serve as an indicator of the rate of ground and excited state molecular damage. In Vivo dermal collagen is embedded in in surrounding extra cellular matrix (ECM) containing a complex of hyaluronic acid (HA) and proteoglycan (PG).In this work, we report preliminary results of Collagen – HA interactions in an model in vitro system. Methodology: Solutions containing 1.0 mg/ml type I collagen + 2.0 mg/ml HA (Elastin Products) in 0.1 M phosphate buffer, pH 7.4 were irradiated from 0 – 200 min. in a thermostatted cuvette (Hellma Cells) with a 4 W filtered UVG – 11 hand lamp emitting at 254 nm. Dityrosine formation as a function of time was monitored by its fluorescence at excitation/emission wavelengths 325/400 nm for temperatures between 13 – 60 oC. Results and Discussion: For T < Tm (~ 36 oC) HA retards the rate of dityrosine formation by ~ 20 – 30 %, indicating stabilization of collagen scaffolding by HA. At T > Tm, where the coiled conformation dominates, there appears to be no systematic effect of HA on collagen stability. Thus, stabilization of collagen helical structure seems to be one important function of the ECM.
Keynote Forum
Queen's University, Canada
Time : 09:40-10:10

Biography:
Dr. Szewczuk is Full Professor of Immunology and Medicine, Queen's University, Kingston, Ontario Canada. Dr. Szewczuk's current research is focusing on the role of glycosylation in receptor activation with a particular focus on alternate new active tumor targeting drug delivery systems.
Abstract:
Multicellular 3D tumor spheroid (MTS) formation in cancer research has been designed to mimic tumor-like developmental patterns in vitro. Tumor growth and invasion is known to be highly influenced by aberrant cell surface-specific sialoglycans on cell surface glycoproteins. Aberrant sialoglycan patterns that facilitate MTS formation has not been well defined. To evaluate the role of sialylation of cancer cell surfaces in spheroid formation, we used the cyclo-RGDfK(TPP) approach to biochemically induce cell aggregation and compaction, transmogrifying monolayer cancer cells into tumor spheroids. The cyclo-RGDfK(TPP) peptide-based platform causes specific biochemical alterations of cell surface receptors inducing self-assembly in monolayer cell cultures into 3D MTS by facilitating cell-cell recognitions, interactions and adhesion. Matrix-free spheroids from breast MCF-7 and pancreatic PANC1 cancer cell lines and their respective tamoxifen (TMX) and gemcitabine (Gem) resistant variants formed tight spheroids while all PANC1 cells formed loose aggregates. MCF-7 and PANC1 cells and their drug-resistant variants expressed different sialic acid (SA) content on their cell surfaces. α-2,3- and α-2,6-sialic acid surface residues facilitated spheroid formation under cyclo-RGDfK(TPP)-induced self-assembly. Pretreatment with α-2,3-SA specific Maackia amurensis (MAL-II) lectin, α-2,6-SA specific Sambucus nigra (SNA) lectin, and exogenous α-2,6-SA specific neuraminidase (Vibrio cholerae) dose dependently reduced spheroid volume. Oseltamivir phosphate (OP) treatment enhanced cell aggregation and compaction forming spheroids. PANC1 and MDA-MB231 xenograft tumors from untreated and OP-treated RAGxCγ double mutant mice expressed significantly higher levels of α-2,3-SA over a-2,6-SA. The present report provides evidence for the important role of specific sialoglycan structures expressed on cancer cells to form avascular multicellular tumor spheroids and in vivo xenograft tumors. Future studies should build upon these findings and explore alternate and novel methods to target the cancer cell glycome and the unique sialylation patterns of the adhesion molecules involved in spheroid formation and tumor progression.
Image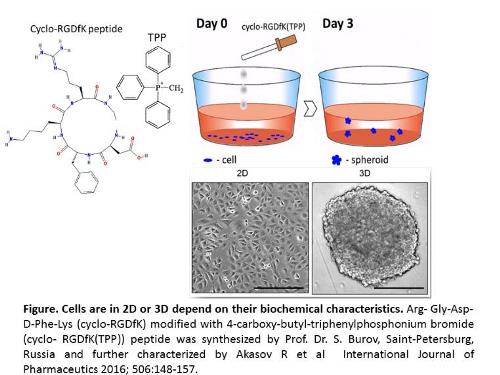 Track 1: Glycans in Drug Design
Track 2: Glycans in Diseases and Therapeutics
Track 3 : Glycobiology and Structural Biology
Track 4 : Glycobiology and Biotechnology
Location: Holiday Inn London - Brentford Lock
Chair
Robert Engel
Queens College, USA

Co-Chair
Myron R Szewczuk
Queens University, Canada
Session Introduction
Queens College, USA

Biography:
Robert Engel is Professor of Chemistry and Biochemistry at Queens College of the City University of New York. He earned his PhD in chemistry in 1966 from The Pennsylvania State University in Chemistry. He has also served in several administrative roles at CUNY, in addition to his teaching and research. His current research efforts are particularly directed toward the regulation of pathogens without the use of antibiotics.
Abstract:
With the increasing development of resistance by bacterial species to the action of classical antibiotics, there has developed a necessity for new approaches toward the control of bacterial regulation and treatment. Efforts of our laboratories have resulted in the generation of a series of surface modifications that result in the destruction of bacterial species of both Gram + and Gram – types rapidly and without the development of resistance to the action. These modified surfaces involve the incorporation of cationic lipids either covalently bound to the surface or embedded within the surface such that the cationic lipid portion protrudes and is able to interact with the bacteria. Our current efforts have been directed toward the development of material that could be used as treatments for bacterial infection, and not simply the prevention of transmission of such pathogens. Glycosides, in several forms, have been demonstrated to be of particular value in the construction of such antibacterial agents. We herein report on several of these glycoside scaffoldings and their ability to hold cationic lipids useful for the treatment of bacterial diseases.
University of Toronto, Canada

Biography:
Clifford Lingwood completed his PhD at the University of London in1974, and postdoctoral studies at the Universities of Washington and Toronto. He has been a full professor at the University of Toronto since 1997 and is a senior scientist within the Molecular Medicine program of the Research Institute at the Hospital for Sick Children, Toronto Dr Lingwood's research program is concerned with the biochemistry, chemistry, metabolism and function of glycosphingolipids with a view to the therapy of diseases in which they are involved. He has published more than 200 papers in reputed journals.
Abstract:
ABC cassette transporters differentially control GSL synthesis. The precursor for the synthesis of most complex glycosphingolipids (GSLs) is glucosylceramide (GlcCer) made on the outer Golgi membrane. The mechanism by which GlcCer is flipped into the Golgi has remained a mystery for>40yeras. Based on the use of MDR1(ABCB1) inhibitors, we proposed a role for this multidrug resistance protein. We have now used a newly synthesized photolabile GlcCer crosslinker to identify GlcCer binding proteins in microsomes, using proteomics/mass spectrometry. Three ATP binding ABC cassette transporters were thus identified, ABCB10, ABCB4 and ABCA3. Using SiRNA knockdown, these candidate GlcCer flippases were reduced in DU145 cells. The loss of ABC cassette proteins had a differential effect on selective GSLs. Some were increased e.g. lactosyl ceramide, while others reduced. In each case of ABC cassette knockdown, GalCer was increased. Moreover, MDR1 siRNA knockdown reduced overall GSL content by>50% according to cell line. These studies provide new insights into the complex regulation of GSL biosynthesis by precursor supply, a new basis for the link between cancer/multidrug resistance and GSL biosynthesis, suggest a new link between GlcCer and GalCer-based GSLs and indicate that multiple ABC transporters can transport GlcCer into the Golgi to generate LacCer pools used for the synthesis of different GSLs. Different LacCer pools could provide a partial basis for the biosynthesis of different GSLs within different Golgi regions (figure).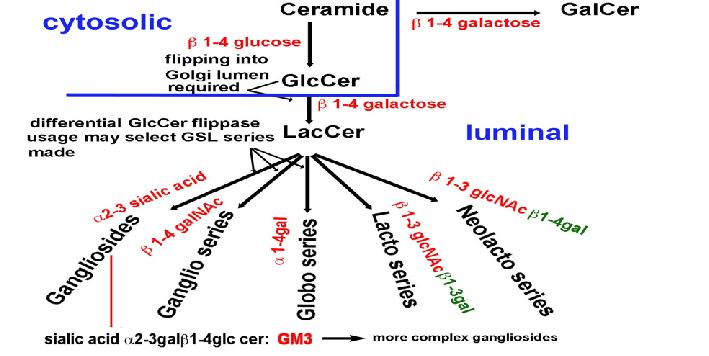 Queen's University, Canada

Biography:
For the past 35 years, Dr. Szewczuk is Full Professor of Immunology and Medicine, Queen's University, Kingston, Ontario Canada. He received his B.Sc. (Hon) in Chemistry (U. of Guelph), M.Sc. in Biochemistry (Guelph), Ph.D. in Immunochemistry (U. of Windsor) and post-doctoral training with Gregory W. Siskind, M.D. in cellular immunology at Cornell University Medical College, NYC. Dr. Szewczuk's recent research has focused on the role of glycosylation in receptor activation with a particular focus of TOLL-like, nerve growth factor Trk, EGFR and insulin receptors. He has discovered a novel receptor-signaling platform and its targeted translation in multistage tumorigenesis and engineered drug delivery systems.
Abstract:
Overactivity of the renin-angiotensin system (RAS) involving angiotensin II (ANG II) produced from this system can induce insulin resistance. It has also been linked to the pathophysiology of type 2 diabetes mellitus, hypertension and cancer. ANG II binds to angiotensin receptors, AT1 and AT2, which belong to a class of G protein-coupled receptors (GPCR). The molecular mechanism of ANG II induced insulin resistance and other pathologies is unknown. We have reported a novel neuromedin B (NMBR) GPCR-signaling platform controlling mammalian neuraminidase-1 (Neu1) and matrix metalloproteinase-9 (MMP9) cross-talk in the activation of the insulin receptor (IR) through the modification of the IR glycosylation in human IR-expressing hepatoma (HTC) cells. This novel organizational signaling platform linked to glycosylated receptor tyrosine kinases (RTK) (e.g., EGFR, TrkA, insulin) and TOLL-like (TLR) receptors is identified to regulate receptor activation process, all of which are known to play major roles in pathologies. This signaling paradigm proposes that ligand binding to its receptor on the cell surface induces a conformational change of the receptor to initiate GPCR and matrix metalloproteinaser-9 (MMP-9) activation to induce Neu1. Activated Neu1 hydrolyzes α-2,3-sialyl residues linked to β-galactosides, which are distant from the ligand binding sites. These findings predict a prerequisite desialylation process by activated Neu1 enabling the removal of steric hindrance to receptor association. Here, we reasoned that there might exist a biased GPCR agonism as diffusible small molecules in the circulation involved in the activation of Neu1-mediated glycosylated receptor signaling platform contributing to type 2 diabetes mellitus, hypertension and cancer.

Biography:
Marc Botcherby obtained his PhD from University College London in the field of Molecular Genetics. He has worked for the Medical Research Council in a number of virology and immunology groups during which time he led the core group of the UK Mouse Sequencing Consortium and then a microarray hotel dedicated to auto immune diseases. Subsequently, Marc joined innovative companies such as Molecular Devices, Cambridge Bluegnome and Ilumina. He is now director of Eggsonchip Limited providing expertise in the field of pre implantation genetic screening as well as distributing and supporting Innopsys scanners in the UK and Ireland.
Abstract:
Microarrays offer miniaturised, highly parallel multiplexing options for glycobiology assays and as such are becoming standard tools in this field. Applications range from Immunology (host-pathogen interaction studies, vaccine development and testing), Cell Biology (cell glycosylation profiling, ligand-receptor interaction studies), Cancer Research (tumour associated antigen screening, vaccine development and testing) to Virology (virus avidity assays, virus surveillance and screening). Examples of these applications will be described.
Institut Pasteur de Montevideo, Uruguay

Biography:
Eduardo Osinaga is Medical Doctor and completed his PhD at the Technological University of Compiègne, France. He is the director of the Laboratory of Glycobiology and Tumor Immunology at Pasteur Institut, Montevideo, and is the Head of the Department of Immunobiology, Faculty of Medicine, Montevideo, Uruguay. His major research interests is the glyco-immunology of cancer. He has published more than 75 papers in reputed journals.
Abstract:
Lung cancer is currently the leading cause of cancer-related death worldwide, accounting for approximately a third of all cancer diagnoses and related-deaths. Non–small cell lung cancer (NSCLC) represents nearly 80% of lung tumors; the two most common NSCLC histological types are squamous cell carcinoma (SCC) and adenocarcinoma (ADCA). Several diagnosis procedures detecting altered glycosylation have been developed and incorporated as assistant procedures in clinical oncology. The synthesis of mucin-type O-glycans is started in a reaction catalyzed by UDP-N-acetyl-D-galactosamine:polypeptide N-acetylgalactosaminyltransferases (GalNAc-Ts). This is a complex family of enzymes of at least 20 members in humans. We previously found that GALNT13, the gene encoding GalNAc-T13 isoenzyme, is a strong predictor of poor clinical outcome in neuroblastoma patients (Berois et al., Clin Chem. 2006; 52:1701-12). In the present study, we evaluated GalNAc-T13 expression in human NSCLC. We produced a monoclonal antibody (MAb T13.5) that was used to assess the expression profile of the GalNAc-T13 protein in a well-defined population of 443 surgically resected NSCLC patients with 7 years of follow-up. We found that ADCAs expressed higher levels of the enzyme than SCCs. GalNAc-T13 expression correlated significantly with worse overall survival in ADCA patients treated with neoadjuvant chemotherapy. These data suggest that GalNAc-T13 could be a novel marker associated to chemoresistance in lung adenocarcinomas.
The University of Queensland, Australia

Biography:
Joanne Blanchfield is a Teaching and Research Associate Professor in the School of Chemistry and Molecular Biosciences at the University of Queensland. Her research broadly concerns drug and vaccine development and delivery. Her research includes projects concerning the isolation and biological evaluation of the bioactive compounds from herbal extracts with emphasis on the oral bioavailability of compounds as estimated via the Caco-2 cell model of the GI tract. The group also explores the design and synthesis of antigen presenting constructs designed to mimic more complex antigen structures using simplified components on a rigid scaffold. We are currently studying the construction of carbohydrate and peptide antigens from Staphylococcus aureus, HIV and HPV.
Abstract:
Saponins are a class of natural product that are present in many herbal extracts. These compounds consist of a hydrophobic core, often a steroid or terpenoid derivative, decorated with varying numbers and types of sugar units attached at various positions. These compounds are often suggested to be the bioactive components of extracts but there is little known about the bioavailability of the compounds. Our group recently identified a new class of open-chain steroidal saponins from Chamaelirium luteum, an indigenous American herb marketed for "women's issues". We have fully characterised a series of these compounds and used the Caco-2 monolayer model of the GI tract to evaluate the potential bioavailability and metabolic vulnerability of eight of these compounds. The saponin, 6-Dehydrochamaeliroside A(1), was found to have good permeability and chamaeliroside A (2) was found to have moderate permeability. All bidesmodic saponins based on chiograsterol A and B cores exhibited low permeability. The aglycone steroids, chiograsterol B and helogenin, showed minimal bioavailability. None of the compounds appeared to be significantly metabolised by Caco-2 cell homogenate. Our results suggest an interesting structure activity relationship with the compounds with sugar units on one site of the core being absorbed while compounds with sugars at both ends of the core are not absorbed. We are further examining this relationship to determine if active transporters such as the GLUT transporters may be involved in the absorption of some saponins but not others. These results will also be presented in this talk.
Image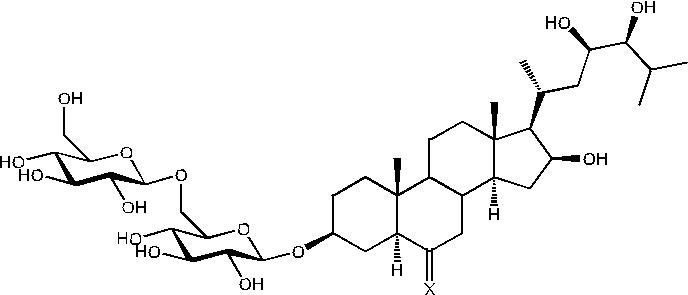 Figure 1: 6-Dehydrochamaeliroside A (1) X = O; Chamaeliroside A (2) X = H, OH.
University of Lisbon, Portugal

Biography:
Amelia Pilar Rauter has her expertise in biomolecular and medicinal chemistry focusing on disease prevention. Leader of the European Innovation Partnership FCUL consortium at the A3 group for disease prevention, and Secretary of the European Carbohydrate Organization and of the IUPAC Division (III) on Organic and Biomolecular Chemistry, she has dedicated her research to the innovation on functional ingredients for AD prevention by bridging nature with sustainable chemistry.
Abstract:
Alzheimer's disease (AD) is a multifactorial pathology, with unknown etiology and, up to now, without cure. Solutions for early diagnosis and disease prevention are urgently needed. We present two case studies on the medicinal plants Salvia sclareoides and Genista tenera, the first one known for its effects on memory loss and the other one used to control diabetes, whose patients are at higher risk of developing AD than normal elderly. Methodologies are based on functional ingredient isolation and structure elucidation and synthesis, followed by the study of the mechanisms of action. The biological properties of S. sclareoides demonstrated that extracts are potent inhibitors of acetylcholinesterase (AChE), the enzyme degrading the neurotransmitter acetylcholine, whose inhibition is used to treat AD patients in early disease stages. Rosmarinic acid was identified as plant major component and a new binding site of AChE for this constituent was discovered [1], opening the way to new strategies for lead development. It was demonstrated that plant extracts prevent normal Prion protein to convert to Prion infectious isoform [2], and interact with AD toxic oligomers [3], removing amyloid fibrils to form amorphous aggregates. These findings clearly reinforce the potential of the plant to act on both amyloid and cholinergic events for AD prevention. Also diabetes is an amyloid disease and the scientific background of the traditional use of G. tenera has been unraveled. The active principles were mainly O- and C-glycosyl polyphenols, namely the potent antihyperglycemic 8-glucosylgenistein [4]. This discovery has encouraged the generation of a library of compounds structurally based on its precursors and analogues, and some of them demonstrated a potent antidiabetic activity [5]. The multiple mechanisms of action of the polyphenols studied were identified. α-Glucosidase and glucose 6-phosphatase inhibitory activity was shown by the polyphenols that also demonstrated UV cellular damaging protection and antioxidant activity, maintained after in vitro digestion with artificial gastric and pancreatic juices [6]. Dihydrochalcones demonstrated a selective and potent inhibition of sodium glucose co-transporter 2 [5]. Interestingly, suppression of islet amyloid polypeptide (IAPP) fibril formation was produced by 8-glucosylgenistein. Molecular recognition studies with IAPP and Aβ1-42 confirmed the same binding mode for both amyloid peptides, supporting this molecular entity for intervention in amyloid events of both diabetes and the frequently associated Alzheimer's disease [4]. C-glucosylation has also proven to efficiently increase the antidiabetic activity of the polyphenols studied and to prevent their behavior as PAINS (Pan-Assay Interference compounds).
Image
Massachusetts Institute of Technology, USA

Biography:
Daniel Salem received his B.S. in chemical engineering from the University at Buffalo and a Master's Degree in Chemical Engineering Practice from the Massachusetts Institute of Technology. He is currently a National Science Foundation Graduate Research Fellow under the guidance of Professor Michael Strano in the Department of Chemical Engineering at MIT. His research involves the design of carbon nanotube-based optical sensors for biopharmaceutical characterization, diagnostics, and food and water-borne contaminant detection.
Abstract:
It is widely recognized that an array of addressable sensors can be multiplexed for the label-free detection of a library of analytes. However, such arrays have useful properties that emerge from the ensemble. As examples, we show that an array of near-infrared fluorescent single-walled carbon nanotube (SWNTs) sensors can estimate the mean and variance of the observed dissociation constant (KD), using three different examples of binding IgG with Protein A as the recognition site, including polyclonal human IgG, murine IgG and human IgG from CHO cells. In addition, we show that the observed dissociation constant is concentration-dependent, indicating multivalent interactions between the two binding partners. A bivalent binding mechanism is able to describe the concentration dependence of the effective dissociation constant, KD,eff, which varies from 100 pM to 1 μM for human IgG concentrations from 1 ng mL-1 to 100 μ g mL-1, respectively. We also demonstrate that an array of nanosensors can uniquely monitor weakly affined analyte interactions by monitoring the metabolically induced hypermannosylation of human IgG from CHO using PSA-lectin conjugated sensor arrays. In addition to our glycan profiling work using lectin-functionalized nanosensors, we have designed synthetic molecular recognition sites for carbohydrates using Corona Phase Molecular Recognition; a detection technology invented by our lab. Herein we synthesized 14 variants of well-defined water-soluble boronic acid copolymers through RAFT polymerization and created 14 distinct corona phases by adsorbing them onto the nanotube surface. We screened them against a panel of saccharides and sugar alcohols, revealing a corona phase that recognizes specific saccharides with high selectivity. In response to D-Arabinose binding, SWNT fluorescence decreases by >60% at saturation, while showing less than 20% response to all other aldopentoses including L-Arabinose. Binding selectivity was tuned by varying the location of boronic acid from para to meta and was also observed through cryogenic-TEM.
Image
University of Würzburg, Germany

Biography:
Edita Sarukhanyan has obtained her Bachelor and Master of Science degrees in Physics (Biophysics) from Tbilisi State University in Georgia. In October 2013 she has received a PhD title in Chemistry (Computational Chemistry) from the joint International PhD program between University of Salerno in Italy and Jacobs University Bremen in Germany. Her thesis work was related to multiscale simulation studies of interactions of carbon nanotubes with biopolymers and lipid membranes. Since April 2015 to date she is a post-doctoral researcher at the University of Würzburg in Germany. Her current research is mainly focused on in silico drug design and development.
Abstract:
Zika virus belongs to the family of Flaviviruses. It evoked a worldwide attention after a large outbreak in Brazil in 2014. New drugs against Zika virus and flaviviridae in general are highly desirable. It has been observed by researchers that the attachment of the flaviviruses to the host cell occurs in the case when the glycosylation of the asparagine in the envelope protein of the virus takes place. However, the viral proteins are quite sensitive and can easily undergo mutation. Therefore, the focus was switched to the host target. Following this idea we have found in the recently published literature that the flavivirus internalization to the host cell is mediated by the Axl (one of the proteins from TAM family) receptor. In particular, when the dimerization of the last one with its ligand – Gas6 takes place. Gas6 binds to the glycosylated protein in the envelope of the virus, hence, facilitating the attachment and entry of the virus into the host cell. Herein, we hypothesize that the blocking of a host-factor, the Axl receptor, could be a best mode way to block Zika virus infection cycle. Instead of directly targeting the virus, we suggest improved compounds targeting Axl-Gas6 interaction site by in silico modification of the known Axl blockers - an anticoagulant drug warfarin and an anticancer drug R428. We have obtained better binding for both extending modifications, which was shown by docking simulation results.

Biography:
Rajagopal Chattopadhyaya (b.1957) completed his PhD (UCLA,1987) under Richard Dickerson, who as a postdoc solved the 2Å structure of myoglobin under John Kendrew. Rajagopal did his postdoctoral work at UC Berkeley and Baylor College of Medicine. He has been a faculty member at Bose Institute since 1993, professor since 2006. His work at Bose Institute is mentioned in the Encycl. Britannica. Book of the Year, 1996 and LexA model in Burton E. Tropp's Molecular Biology : Genes to Proteins, 3rd edn, a continuation of David Freifelder's classic undergraduate textbook. Structural Biologist, biochemist, religious historian & author (as a hobby).
Abstract:
The major tuber storage protein of Colocasia esculenta, is a monocot mannose-binding, widely used dietary lectin. This tuber agglutinin contains two polypeptides of 12.0 and 12.4 kDa by MALDI-TOF analysis. By both gel filtration and dynamic light scattering at pH 7.2 show the lectin has a α2β2 form; however, at pH 3, it converts to αβ form. Our circular dichroism spectroscopy studies show that the lectin retains approximately 100% of its secondary structure between pH 2-8. The fluorescence emission maxima of 346 to 350 nm for pH 4 to 10 show that the tryptophan residues are relatively exposed. The unfolding is a simple two-state process, N4 ↔ 4U, as seen in our denaturation scan profiles, when monitored by fluorescence, far-UV CD, and near-UV CD, are completely super imposable. Analyses of these profiles provide an estimate of several thermodynamic parameters at each guanidinium chloride concentration, including the melting temperature Tg, which is 346.9 K in 0 M, but lowers to 321.8 K in 3.6M. Mannose-free mannose-bound lectin crystals were obtained by hanging-drop, vapor-diffusion method at room temperature and high-resolution X-ray diffraction data were collected using a home X-ray source. The mannose-free structure (5D5G) and mannose-bound structure (5D9Z) are both available in the PDB, along with the X-ray data. Some highlights of both structures will be presented. Such high resolution structures obtained from a home X-ray source is rare among this class of lectins, and it has not been possible to crystallize simple mannose with such lectins before.
University Hospital Muenster, Germany

Biography:
Bettina Hesse has completed her Master of Science in Biochemistry and Molecularbiology in 2015 at the University of Kiel, Germany. Since 2016 she is working as PhD student at the University Hospital Muenster in the group of Professor Philipp Kümpers in cooperation with the group of Professor Kristina Kusche-Vihrog. Her current research focus is the molecular control of eGC damage and refurbishment in acute and chronic inflammatory diseases.
Abstract:
The endothelial glycocalyx (eGC), a carbohydrate-rich layer mainly consisting of heparan sulfates (HS), lines the luminal side of the vascular endothelium. It provides a first vasoprotective barrier against vascular leakage and leukocyte adhesion in sepsis and vascular inflammation. The eGC is damaged in sepsis and thereby leads to defects in vascular permeability. Angiopoietin-2 (Angpt-2), an antagonist of the endothelium-stabilizing receptor tyrosine kinase Tie2 secreted by endothelial cells upon inflammatory stimulation, promotes vascular permeability through cellular contraction and junctional disintegration. Since the eGC damage and Angpt-2 are both involved in mechanisms influencing vascular permeability we hypothesize that Angpt-2 might also mediate the breakdown of the eGC. Using confocal and atomic force microscopy, we show that exogenous Angpt-2 induces a rapid loss of the eGC in endothelial cells and aortic endothelium in vitro. Glycocalyx deterioration involves the specific loss of its main constituent HS, paralleled by the secretion of the HS-specific heparanase. Corresponding in vivo experiments revealed that exogenous Angpt-2 leads to heparanase-dependent eGC breakdown, which contributes to plasma leakage and leukocyte recruitment in vivo. In summary, our data reveal a novel and crucial role for Angpt-2 in the regulation of the eGC. The results advance our understanding of the Angpt/Tie2 ligand-receptor system as a shared and concurrent gatekeeper of both layers of the vascular double barrier: the endothelial cell and the eGC.